Dano and the Sayles Team
The #1 Realtor on Maui

Whether you're a first time buyer looking at Maui vacation rental condos for sale or you're an owner getting ready to sell your Maui property, working with an experienced Maui Realtor can make a difference for your success!
Dano Sayles has been recognized as the #1 Maui Realtor for sales in 2016 and 2015
In 2016 we achieved an impressive total sales volume of $63.5 Million. We're proud of our accomplishment, but the real honor is representing our clients: In 2016 we completed 24 purchases for our buyers and successfully closed 16 listings for our sellers.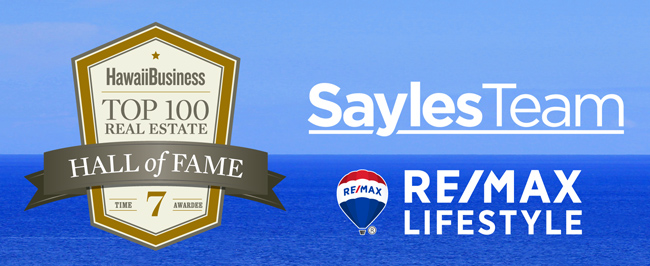 Dano Sayles and the Sayles Team has been recognized by Hawaii Business Magazine's Top 100 Realtors for 7 years in a row.
Our mission
We are passionate about Maui real estate and are on a mission to make The Sayles Team at REMAX Lifestyle the most successful real estate firm on the Island of Maui.
Putting clients first since 1984
We put our clients first in everything that we do! The best interests of our clients will always come first and we will place the clients' goals ahead of our own in each and every transaction. We are dedicated to the development of long-term client relationships.
Experienced and innovative
The Sayles Team maintains a full-time staff of well-trained real estate professionals who consistently strive to provide top quality service for our clients and our customers. The Sayles Team is a creative, innovative and family oriented brokerage providing individual opportunity and personal satisfaction to all members of the team. Come and see for yourself how our energy and experience gets results!
Significant sales results
See our impressive list of Maui homes and condos that we've sold in our sold property portfolio.
Exclusive listings
Below is a small sample our prestigious exclusive listings updated January 15, 2020. See our complete list of exclusive listings.